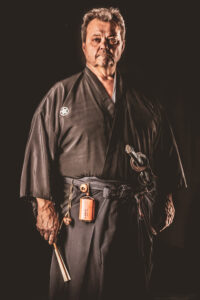 Rudolf Gräf started at the age of 10 with Judo, 1970 he discovered das Jiu Jitsu and was gradtuated to the 2nd Dan.
Inbetween he turned is attention to Do Shin Kan Karate Do / Goju Ryu Karate from 1973 until he got to know Aiki Ju Jutsu and Iaido in the style of Jigen Ryu at Harada Sensei in the beginning of the ninties.He decided to continue this way of Jiu Jitsu and met 1992 on a seminar in France Antonio Garcia Sensei and his Hakko Denshin Ryu,a Kokodo style, and so he also met Soke Irie and Shihan Ivo Belmans.
Rudolf Gräf Sensei braught this new style to Austria and started to share his knowledge with the first pupils.
1997 Makoto Dojo became then officially the first Kokodo Ju Jutsu Dojo in Austria.
2013 graduated to Shihan by Soke Irie after an successful exam. In April 2018 Rudi graduated to Menkyo Kaiden Shihan in Omya Japan.
Budo – "CV"
6. Dan Menkyo Kaiden Shihan KoKoDo Ju Jutsu
5. Dan Iaido Musō Jikiden Eishin Ryu
2. Dan europ. Jiu Jitsu
2. Dan Karate Goju Ryu Karate Do
Certified Lehrwart
Certified Trainer
A few teachers:
KoKoDo Ju Jutsu
Yasuhiro Irie – Soke


Ivo Belmans – Menkyo Kaiden Shihan

Hakko Ryu /Aiki Ju Jutsu

Antonio Garcia – Soke Hakko Denshin Ryu
Harada Shinsei – Soke Jigen Ryu
Johnny Lenskens – Menkyo Kaiden San Dai Kichu Hakko Ryu
Johann Wagner Shihan Jigen Ryu
Robert Reinberger Shihan Jigen Ryu
Europäisches Jiu Jitsu
Josef Ebetshuber Hanshi (10. Dan Jiu-Jitsu)
Franz Strauß Shihan (10. Dan Jiu Jitsu)
Allain Sally Hanshi (8. Dan Goshindo)
Karate
Ogawa Shihan (8. Dan Goju-Ryu)
Topil Gerhard (5. Dan Renshi Shotokan)
Iaido
Sekiguchi Komei-Soke Muso Jikiden Eishin Ryu
Masataka Ohshita- Soke Suirei-kan